This is a true story that happened about 3 years ago..It may be a demon possesion it may not be.But it sounds like it..
The names have been changed but thats all the rest is true..

I lived with my Grandma and there was 9 people living in the house.Me,My 2 Brothers,My Sister,Mom,Thomas(moms b/f),My 2 Cousins and my Grandma.
My youngest cousin was 22 at the time and he has always been kind of weird.But This time was different from any other time.He would walk around with this blank look on his face and just stare at us as if he was just looking through us.This went on for weeks.Then one night about 10:30 pm I was laying on the couch talking on the phone and I had my face towards the back of the couch.I felt someone tap on my shoulder and I rolled over to see what they wanted and it was (well call him) X.He had that same blank stare on his face and he looked at me and whispered something but I couldn't understand what he was saying,and he through this evil grin at me and walked away..It sacred me bad so I went and stayed with my cousin.

Then when I finally got the nerve to go back to my grandma's It was weird it was like everything had calmed down but after a couple nights it all started back and it was worse than it was before.X's brother had been diagnosed with Physcofrenia about a year prior to this well that's what we all thought it was. But then things got bad.X was in the bathroom getting ready to take a shower or so we thought. All of a sudden, He came running through the house naked screaming "I have no shame".I didn't know what to do I stood up and froze right where I stood.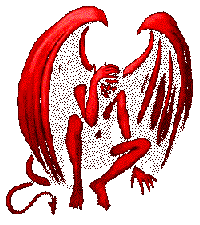 Then I ran out of the house.Well after that night we started seeing things in the house.Like big black shadowed figures moving from room to room.We would feel things blowing on our necks and whispering to us.Then X told his friend that He was in his room one night and he had sat on this things lap and he felt comforted and loved.We didnt find any of this out until after the whole ordeal was over with..But weird thing's happened in the house such as writing appeared on the walls,upside down crosses burnt into X's door facing.Then he had our names wrote in a list figure down the wall.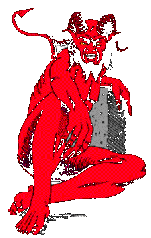 Then one night he left and my aunt lived in the house we live in now which is in front of the garveyard and my cousin Lillie heard a woman scream in the graveyard.About 5 minutes after that X walked in the door with a dog chain wrapped around his hand,We never heard anything about that but it was kind of weird.Because of the way it happend.
My grandma is really into christian stuff like the preaching on TV.Everytime it would be on X would run from his room and jump up and down banging his head on the celing. My grandma finally took him to a mental hospital and while we were sitting in the waiting room he went into the bathroom and came back out his arm was bleeding and he had some writing on his arm that he had cut in there with a peice of the mirror he had broken in the bathroom.No one could understand the writing.


Well they put him in the institution and that still didn't make things calm down at the house.We would still hear stuff and see the Black Shadow move from room to room.
Well My cousin B was skeptical about the whole thing when we told him what was going on.He wanted to see for his self so he walked through the hall way and into the first bedroom on the left and he started calling this shadow names saying it was to pussy to show itself.Well was he wrong when he said that.Right before he finished saying this a Bible came flying off of the dresser missing his head by inches.Then the shadow appeared moving from this room to the one across the hall.He went into the room where the shadow went and watched it for a minute.The shadow moved towards him and he ran from the room.B wasn't so skeptical now he believed us.When you would walk down the hallway you could smell the stench of death,It was so strong it would almost make you sick.This went on for about another 2 months while X was in the hospital.When he came home.He was a different person and everything stopped as if he had denied the shadow or demon and not given it any recognition to this demon.When you don't acknowledge something evil it will leave.So maybe that's what X did to make this thing leave.I don't know but it was gone.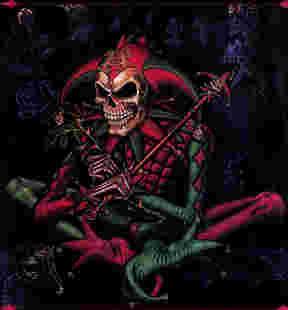 Nothing has happened at this house other than a few things my Grandma seen.Before my Uncle and Cousin passed away which was about 1 month ago.But she said she saw 2 big black shadows and heard a loud buzzing noise.
I don't know if this was a demon possession in my cousin but after I got all the information on possession( which is on this site under the "Ouija Board and possession") I started wondering if that's what it could be.
X was diagnosed with Phscyfrenia and and he has been normal ever since he started taking his medicine.
Im not saying it was or wasn't a demon possession.They both make since.But it also says that the Dr's diagnose it as a mental illness...So you decide...
La'Donna Moyers